Life is so interesting; I have someone that reads my blog every day (according to my stats) and thinks every thing I write is about her. Do you think she might have a little problem? She is telling me to grow up and act my age but she's the one that thinks every thing is about her. Even when I've not directed anything to her in ages since I don't care if she falls off the face of the earth. I wouldn't even know what she's saying but a friend of mine enjoys reading her dribble and was telling me about it when she called me this afternoon.
Oh well!
I worked on reorganizing my scrap room this afternoon. I'm pretty happy with how it's turning out. I want stuff better organized; it's not that it's all that messy. I just want it better set up for me to scrap; I think I'm finally getting there. I would like one more of the white drawer things. I caught the one I have at Target for $20. The jars with the ribbon are from the Dollar Tree $1.00 each and they hold a ton of ribbon I have 8 of them. And I have all of my embellishments now sorted according to color and in clear boxes; so if I'm working on something and want something Green I just pull out the Green box. Now I just need to figure out a better way to store my Stampin Up stamps.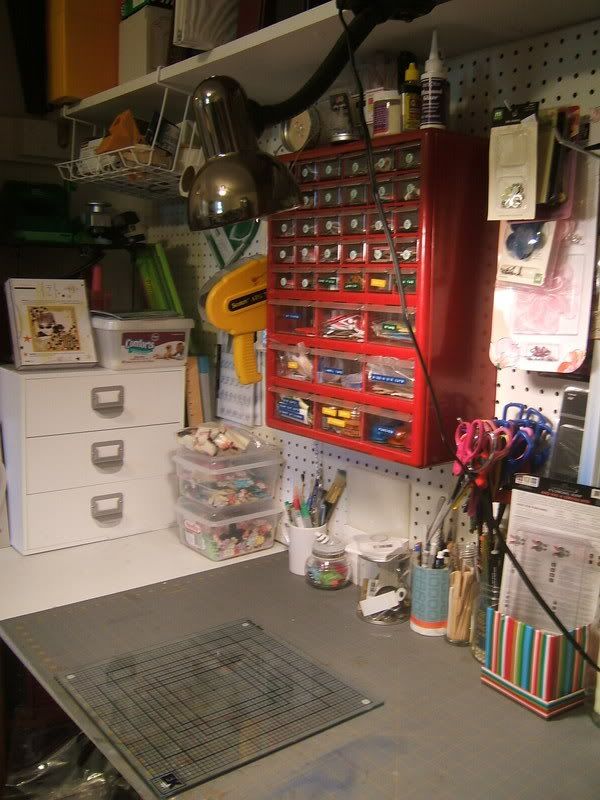 While I was at Target today I found a little OSU Cheerleader outfit for Mikaela and also the cutest pair of jeans and a top to go with them; and blushing a little here I also got her a sweater and a dress. You know you just can't pass up those little outfits.
Well tomorrow starts the beginning of fall quarter; all the students are back in town. I know work will be busy for at least the next 2 weeks. Then it will calm down till the end of the quarter. My programs all have to be closed out by the end of this month. I have them almost done; they were completely done but we had some student's complete verification so we had to disburse some money to them. So I need to make sure those students get reported and then close out.
I hope everyone has had a wonderful holiday weekend.
Take care,
Jane